How to set Google Admin Policies & Org Scope Settings for Kronologic Calendar & Mailbox - This post will help troubleshoot Google admin org errors while trying to login into Kronologic. There are 2 options available to achieve the proper set of permissions.*
Option A: Google API Permissions
Option B: Google Whitelisting Trusted Domains
*A Google Org Admin is needed to set these permissions.
Option A: Google API Permissions
In the Google admin console you will notice a series of buttons that take you to different levels of settings for your org. Click on the last one to access the security settings as shown below:

Once in the security view, scroll down until you see: "API Permissions".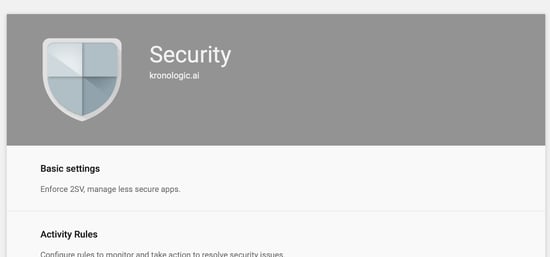 |
|
|

Once in the API permissions settings page, you can then enabled both Gmail and Calendar by clicking on the first radio button for each section as shown below: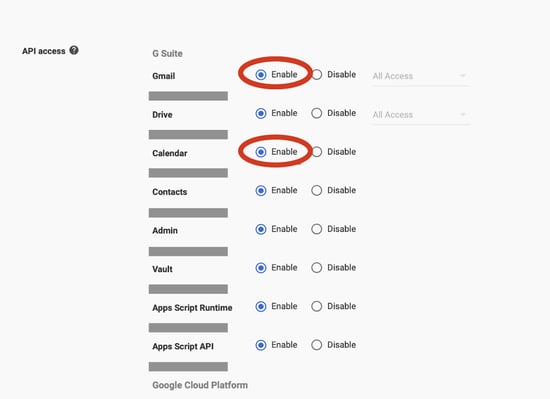 All other options for G Suite shall remain the same according to your org settings.
Option B: Google Whitelisting Trusted Domains
While the first option gives Gmail and Calendar scope access to a wide variety of apps and websites, an org can achieve a higher level of trust by whitelisting domains in the Google admin console. To add a domain to the whitelisted domains section go to the Google admin console and click on the "Domains" section.

Once in the Domains section, there are two options, "Manage domains", and "Whitelisted domains". Click on the second one to access your org's whitelisted domains.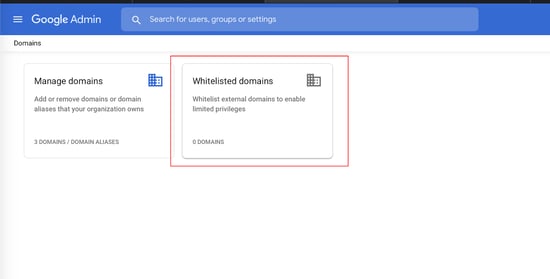 You will see a list of whitelisted domains for your org, or an empty list if there are none. Please add one by clicking on the "Add new" link in order to add kronologic.ai app as trusted. This will enable your org to access Kronologic main features for your org.

Once you click on the "Add new" link, add kronologic.ai as the input value and click the "ADD DOMAIN TO WHITELIST" confirmation button once you're done, as shown below:
References
Google Admin Console - https://admin.google.com
Whitelist trusted domains - https://support.google.com/a/answer/6160020?hl=en&ref_topic=7558663
API Access to 3rd party apps - https://support.google.com/a/answer/7281227?hl=en&visit_id=637123126505982452-1446939779&rd=1)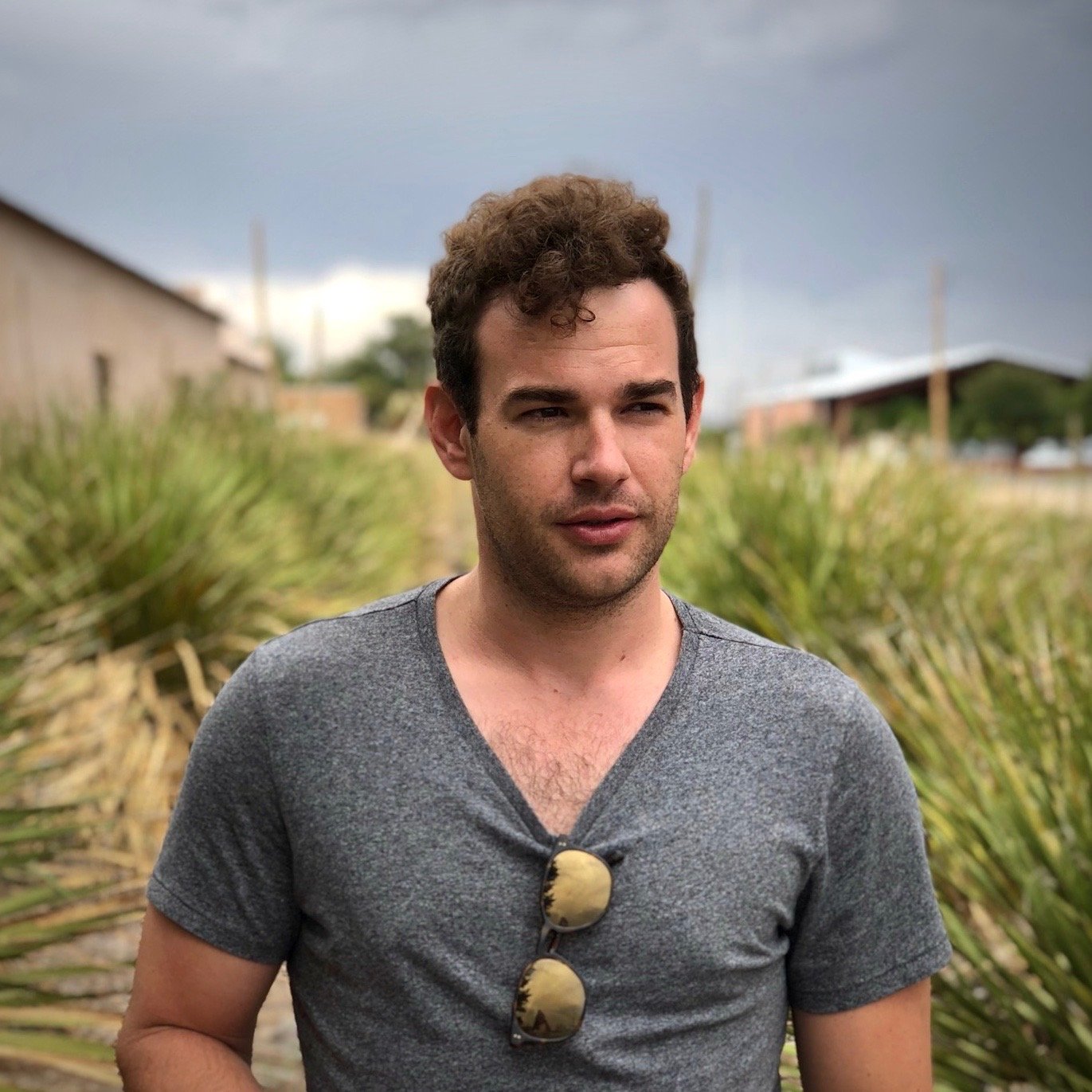 Trey grew up in Marfa, TX playing with airplanes and minimalism. He attended both UT Austin and Texas A&M, where he founded a fraternity, established a campus newspaper, launched a 3D printing lab — and changed majors often. He graduated with a Bachelor's degree, a couple of minors, completed pre-med requirements, and a nuclear reactor operator's license. Trey jumped into Fortune 500 Tech and traveled the country for four years as an enterprise VMware consultant before co-founding Kronologic with Ben Parker. After bootstrapping their way to revenue, they met fellow co-founders Chris Lee and Aaron Bollinger, grew their customer base, raised additional funding, hired top talent, hustled, hustled more (and repeat). Trey is now having the time of his life.